About the Archive
       We would like to draw your attention to the Archive of Dmitri Shostakovich and DSCH (Dmitri Shostakovich) Publishers, which currently operate in Moscow.
       The structural transformations going on in Russia, as well as the changes in the country's legislation and economy have affected every citizen, including the members of the creative intelligentsia who have acquired the right of personal ownership to the products of their intellectual labour and the right to determine the fate of their works. 
       These changes have compelled me, as one of Dmitri Shostakovich's heirs, to systemise and inventory the documents in his home and begin creating an information centre and archive to house, as fully as possible, all the information from different sources regarding the composer's life and work under one roof. This collection, which will be continuously updated as time goes on, aims to provide researchers and performers of Shostakovich's music with acces to information about his creative life and acquaint them with the interpretations of his works and current performance traditions, as well as copies of manuscripts and video, photo and audio materials, thus promoting the circulation of his music.
       Due to the negative changes in the work of state publishing houses, I had to find a way to meet the continuously growing demand from performers for Shostakovich's compositions and their orchestral parts.
       DSCH Publishers, which appeared at the same time as the Archive, focuses solely on publishing the composer's works, while the main task of the Archive is to create a documentary basis for the publication of Shostakovich's works and provide the opportunity to verify the published originals against the manuscripts, as well as editions and recordings done during the composer's lifetime.
       Contemporary computer programmes have made a phenomenal difference in the way the originals are prepared. Correspondingly, the library of materials for hire also required hasty updating, which began at the same time as publication of the volumes of the composer's Collected Works. Fortunately, my third of the royalties from the performance of my husband's works has made it possible for me to make modest arrangements for the fulfilment of this endeavour.
       We have begun publishing Dmitri Shostakovich's
New Collected
Works in 150 volumes. These publications are shedding light for the first time on many previously unpublished works, including operas and ballets that were at one time vilified and banished for long years from the repertoire, early orchestral works, author's arrangements of symphony music, etc. At the same time, DSCH Publishers has begun the computer preparation of orchestral materials for hire, with the participation of other heirs. DSCH Publishers has also begun issuing annuals entitled
Studies and Documents
, as well as the
Dmitri Shostakovich Archive series
, which publishes the results of archive searches and articles about new findings.
       There are plans to carry out several large projects: Dmitri Shostakovich: Chronicles of His Life and Work (we have been chronicling and collecting information for this project for ten years now), as well as a detailed music reference guide and a collection of Dmitri Shostakovich's articles.
       I hope that the information posted on this website will help all those interested in Shostakovich's music to find the easiest and best way to acquaint themselves with the information gathered and the publications of the composer's works. I wish everyone success in this venture.
Irina Shostakovich
The Archive Records Groups
Music Manuscripts
Section 1 Dmitri Shostakovich's Manuscripts
       The main Archive Record Group—rec. gr. 1, section 1 "Dmitri Shostakovich's Music Manuscripts" was formed on the basis of the collection of author's manuscripts kept in the composer's personal archive in his Moscow apartment. This collection has grown over time. Some manuscripts were acquired at auctions or from individuals (such as the orchestration of Johann Strauss's Train of Pleasures, the choral arrangement of Two Russian Folk Songs, Cello Sonata, Op. 40, and the score of the opera The Nose) and some were donated to the Archive (for example, the piano score of the cantata The Sun Shines over Our Homeland donated by Aleksandra Vavilina-Mravinskaya and the score of the film music for The Gadfly donated by Yuri Prokofiev).
       The Record Group currently boasts over 300 manuscripts, thus providing a complete picture of the abundance of genres in Shostakovich's music heritage at different times during his
creative work between 1918 and 1975.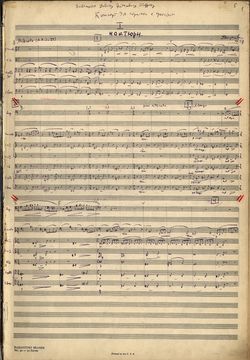 They include symphonies (sketches, piano scores, scores and proofreading), primarily the Third and the last five; manuscripts (from outlines to proofreading of the finished score) related
to his quartet oeuvres, instrumental sonatas (for cello and piano, for violin and piano and for viola and piano), Concertos and the operas The Nose, Lady Macbeth of the Mtsensk District
(including the second version Katerina Izmailova), The Gamblers and The Black Monk.
       The Record Group has a copious collection of Shostakovich's film music, his piano works, vocal songs and cycles, choral music (including cantatas) and orchestral works. In addition to the original works, there are also arrangements of symphonies by Igor Stravinsky and Arthur Honegger, Beethoven's Song of the Flea, orchestrations of Modest Musorgsky's opera Khovanshchina, Veniamin Fleishman's opera Rothschild's Violin, and others.
       Shostakovich's first attempts as a composer before he attended the conservatory and his early student works from cantus-firmus harmonisation and strict style polyphony assignments to
the first opus works form a separate group.     
       By this time, most of the unnamed manuscripts kept in the Archive had been attributed. They include the Symphony Fragment of 1945, the sketch of the opera The Black Monk, a multitude of sketches for chamber-instrumental and symphonic works, film music, and so on. However, there are still unidentified outlines, sketches and recordings among the music manuscripts.

Section 2 Manuscripts (and Copies) by Other People
       All of the material comprising this section can be divided into three groups.
       Most of it is comprised of arrangements, transcriptions and orchestrations of Dmitri Shostakovich's works done by different authors. They include arrangements of string quartets and sonatas for different instruments (Aleksandr Benditsky, Aleksandr Tchaikovsky, Mikhail Tsinman, Walter Mnatsakanov and Vladimir Mendelssohn), arrangements of orchestral works for piano two and four hands and for different instruments (Konstantin Eiges, Aleksandr Benditsky, Tatyana Sergeyeva, Timofei Dokschitzer and Yuri Tkanov), orchestrations for chamber ensembles of piano works (Grigori Korchmar, Gennadi Belov, Yevgeny Stikhin and Denis Monighetti), orchestrations of vocal works (Boris Tishchenko, Gerard McBurney), the completion of Shostakovich's unfinished works (Krzysztof Meyer, Vadim Bibergan and Roman Ledenev) and others.
       The second, equally large, group is comprised of the original works of different authors, many of which were dedicated to Dmitri Dmitriyevich. These are mainly the works of Shostakovich's students and admirers given to the composer or donated to the Archive, including from Boris Tishchenko, Edison Denisov, Rodion Shchedrin, Georgy Sviridov, Revol Bunin,
Gennadi Belov, Askold Murov, Mieczysław Weinberg, Kuzma Smirnov, Jovdet Hajiyev, Ronald Stevenson, Vladimir Nikolovsky, and others. 
       The author's manuscripts of unidentified persons, as well as the works of other composers comprise a small third group.

Copies of Shostakovich's Music Manuscripts
       This Record Group is a uniquely complete collection of copies of Dmitri Shostakovich's manuscripts. Irina Shostakovich's original idea to make copies of the manuscripts of Shostakovich's most significant works in order to ensure their safekeeping gradually grew into an attempt to make copies of all of the composer's available music manuscripts kept in different archives and depositories: the Archive of Dmitri Shostakovich, the Russian State Archives of Literature and Art and the St. Petersburg Central State Archives of Literature and Art, the Russian National Museum of Music and so on.
       The collection is unique in that a researcher wishing to work with music manuscripts from different depositories can find them all in one place—the Archive of Dmitri Shostakovich in Moscow.
       The high technological level and copying techniques used have made it possible to produce scanned manuscripts on electronic carriers (CD-R), as well as natural size colour prints that are essentially identical in appearance to the original. 
       Qualified researchers with recommendations from prestigious musical research institutions are provided with copies to work with.

Correspondence
Section 1 Dmitri Shostakovich's Letters

       This section comprises originals and copies (scanned, typed, hand-written and Xerox copies) of letters and telegrams that cover the period from 1922 to 1975.
       The list of people Shostakovich wrote to currently includes around 100 names, among whom are composers, performers, conductors, artists, music and theatrical figures: Nikolay Benua, Valerian Bogdanov-Berezovsky, Solomon Gershov, Isaak Glikman, Boris Gmyrya, Edison Denisov, Nina Dorliak, Orest Yevlakhov, Dmitri Kabalevsky, Viktor Kubatsky, Andrei Moskvin, Yevgeny Mravinsky, Vladimir Ovcharek, Svyatoslav Richter, Artur Rodzinsky, Marina Sabinina, Konstantin Simeonov, Mikhail Khrapchenko, Irina Shostakovich, Zoya Shostakovich, Rodion Shchedrin, Friedrich Ermler, Nadezhda Yureneva, Boleslav Yavorsky and others.
       Most of the letters were donated to the Archive and to Irina Shostakovich personally by the correspondents themselves or their heirs (letters to Yavorsky, Yureneva, Dorliak, Richter, Shchedrin, Sabinina, Mravinsky, Ovcharek, etc.). Other letters were provided in copies by various archives that keep the composer's original epistolary: the Russian State Archives of Literature and Art, the Russian National Museum of Music, the St. Petersburg Central State archives of Literature and Art, the Ukrainian State Museum of Theatrical, Musical and Film Art, etc. Some letters were originally kept in Shostakovich's family archive: these are copies of the composer's replies (including those prepared by secretaries) to various requests from organisations (editorial boards, publishing houses, museums, theatres, creative associations and collectives, educational institutions, and so on) and individuals. Among these letters are reviews and petitions.
       The Record Group has still not been fully inventoried and continues to be replenished. Some of these letters have been published in different editions.

Section 2 Letters to Dmitri Shostakovich

       This section includes more than 3,500 letters and telegrams, including congratulatory, from different organisations and private correspondents, Russian and foreign.
       The composer's Russian correspondents include members of his family, as well as Chinghiz Aitmatov, Abram Ashkenazi, Levon Atovmyan, Sergey Balasanyan, Igor Belorusets, Gennadi
Belov, Nikolay Benois, Vadim Bibergan, Igor Blazhkov, Igor Boldyrev, Vadim and Dolli Borisovsky, Revol Bunin, Oles Chishko, Mikhail Chulaki, Nariman Chunikhin, Lev Danilevich, Yelizaveta Dattel, Yevgeny Dolmatovsky, Aleksandr Dolzhansky, Nina Dorliak, Fedor Druzhinin, Ilya Ehrenburg, Gustav Ernesax, Andrei Eshpay, Mikhail Fikhtengolts, Nikolay Fortunatov, Isaak Glikman, Mattias Grinberg, Aleksey Ikonnikov, Dmitri Kabalevsky, Veniamin Kaverin, Anatoli Kaplan, Mikhail Katsnelson, Vera Ketlinskaya, Aram Khachaturian, Karen Khachaturian, Boris Khaykin, Sofya Khentova, Aleksandr Kholodilin, Vladimir Khomenko, Tikhon Khrennikov, Georgy Khubov, Leonid Kogan, Zinovy Kompaneets, Kirill Kondrashin, Grigori Kozintsev, Aleksey Kozlovsky, Olga Lamm, Ada Lazo-Lebedeva, Lev Lebedinsky, Roman Ledenev, Yuri Levitin, Aleksandr Lokshin, Aleksey Machavariani, Yevgeny Makarov, Konstantin Massalitinov, Roman Matsov, Yuli Meytus, Aleksandr Mnatsakanyan, Irina Molostova, Aleksandr Mosolov, Yevgeny Mravinsky, Lidiya Mukharinskaya, Vyacheslav Nagovitsyn, Tatyana Nikolayeva, Andrei Novikov, David Oistrakh, Maria Olenina-D'Alheim, Mark Paverman, Maya Plisetskaya, Semen Podolsky, Boris Polevoy, Georgy Polyanovsky, Nikolay Rabinovich, Petr Radchik, Faina Ranevskaya, Nadezhda Reformatskaya, Svyatoslav Richter, Artur Rodziński, Mikhail Romm, Mstislav Rostropovich, Gennadi Rozhdestvensky, Marina Sabinina, Konstantin Sakva, Vadim Salmanov, Francesco Siciliani, Valentin Silvestrov, Konstantin Simeonov, Sergey Slonimsky, Lev Solin, Aleksandr Solzhenitsyn, Antonio Spadavekkia, Ksenia Stravinskaya, Georgy Sviridov, Aleksandr Tvardovsky, Otar Tevdoradze,
Vasiliy Tikhonravov, Boris Tishchenko, Vladislav Uspensky, Anastasia Tsvetaeva, Grigori Schneerson, Marietta Shaginyan, Rodion Shchedrin, Nikolay Shchelokov, V. Shcherbak, Yevgeny Shenderovich, Dmitri Shepilov, Nikolay Sheyko, Galina Shostakovich, Boris Steinpress, Leonid Yakobson, Irma Yaunzem, Boleslav Yavorsky, Orest Yevlakhov, Yevgeny Yevtushenko, Nadezhda Yureneva, Aleksandr Yurlov, Mieczysław Weinberg, Yuri Zavadsky and many others.
       Letters (including collective ones) from editorial boards, publishing houses, museums, theatres, creative associations and collectives, educational institutions, etc. signed by regular
employees, well-known cultural figures and high-ranking officials comprise a special group. The Record Group also keeps letters from Shostakovich the composer's numerous admirers and
Shostakovich the deputy's electorate.

Section 3 Letters to Irina Shostakovich
       This section primarily comprises letters sent after 1975 concerning the posthumous fate of Shostakovich's music heritage, replenishment of his Archive with new documents, etc.

Section 4 Letters from Different People to Different People
       This section currently focuses on the correspondence between Zinaida Gayamova and Rita Korn, Shostakovich's personal secretaries; correspondence from the Sass-Tisovsky Archive; a selection of letters from the family archive of Valerian Bogdanov-Berezovsky; several letters from the family archives of Yevgeny Mravinsky and Nina Dorliak-Svyatoslav Richter; letters from the depositary of the Art Committee at RSALA; and letters sent to Shostakovich for review.
       All of the letters shed light in one way or another on unknown facts about the composer's personal biography, comment on and replenish his creative, performance and social activity, and are evidence of the life and perception of his music by contemporaries and descendants.

Literary Manuscripts
       This Record Group was formed on the basis of various surviving records done by Dmitri Shostakovich himself. They include a unique source for studying the composer's biography, his
so-called Diary. Comprised of seven notebooks, the Diary covers the period between 1945 and August 1975 Dmitri Shostakovich made regular entries in his Diary about his plans, events, meetings and engagements. As we know, Shostakovich took part in writing the librettos for his works. For example, he wrote the libretto for the opera Lady Macbeth of the Mtsensk District in cooperation with Aleksandr Preis. The Archive has fragments of the libretto of Acts One and Two of the opera written in Shostakovich's hand [beginning of the 1930s], as well as the complete text of the libretto by Aleksandr Preis and Dmitri Shostakovich (copy of the typed manuscript [1932]). Shostakovich's notation of the text of Gaetano Braga's serenade (1972-1973) is kept in the Record Group as working material relating to an unrealised conception for the opera The Black Monk based on Anton Chekov's novel. This group also includes the stage plans for the opera The Black Monk written by Irina Shostakovich, the composer's wife. The Literary Manuscripts Record Group includes all kinds of records by Dmitri Shostakovich himself: lists of his works (the composer's opus lists), cards from the catalogue of his personal music library, reviews and descriptions, commentary on the publication and performance of his works (for example, the author's proofreading of the Fifteenth Symphony). The literary manuscripts of other authors comprise a large part of this Record Group. They are primarily the author's manuscript of the diaries and literary notes of reminiscences of the composer's close friend Isaak Glikman (from 1947 to 1976). The following materials are also kept in this Record Group: a selection of poems done on a typewriter for Boris Pasternak's novel Doctor Zhivago with the author's dedication on the first page: "Take heart, Dmitri Dmitriyevich…" (1948); diary entries by the composer's wife, Irina Shostakovich, about the sea voyage to Ireland and England and the award ceremony at Trinity College (the University of Dublin, Ireland) (manuscript, 1972), at which Shostakovich received an honorary doctorate; music scenarios of Grigori Kozintsev with Shostakovich's notes for the films Hamlet (1964) and King Lear (1970) and others. Most of the material in this section consists of poetry and prose sent or given to Shostakovich for writing music. Professional poets and prose writers (Eduardas Mieželaitis, Yevgeny Yevtushenko, Aleksandr Preis and others), as well as unknown literary dilettantes are among the authors.

Photographs and Negatives
       This Record Group comprises around three thousand files. The contemporary photograph processing technique used in the Archive makes it possible to carry out a search for the
photographs needed based on practically any parameters, from traditional (chronology, people and events) to specific, such as poses, clothing, and so on.
       The Photograph Record Group is comprised mainly of photos of Dmitri Shostakovich at different times during his life, beginning in 1907 Shostakovich taken by himself, as well as in the company of family and close relatives, friends and students, composer colleagues, performers, outstanding people and ordinary listeners.
        The photographs provide a relatively detailed presentation of Shostakovich's entire creative journey. Many of the so-called photo series are devoted to premieres and ordinary performances of his works. A large part of the photographs comprise vintage selections of materials that recreate the history of the composer's creative trips around our country And abroad.
       Many outstanding photographers took pictures of Shostakovich (for example, the Record Group has several original works by Moisei Nappelbaum). Semen Khenkin took a lot of photographs during the last decades of Shostakovich's life. However, it is the non-professional, amateur photos showing candid shots of the composer that are often of the greatest interest. One of the most significant and vibrant sections of the Record Group comprises family and private photos done by Nina Shostakovich-Varzar. Many photographs were taken at different times by Shostakovich's friends and students, as well as by Irina Shostakovich.
       On the other hand, the photographs also give a sufficiently complete view of the official side of Shostakovich's life, his participation in congresses, meetings and discussions, and these photographs, done by masters of glossy semi-officialise, also comprise a unique part of the Photograph Record Group.
       It should be noted that the Photograph Record Group has been gradually replenished (and continues to be so) with photos not of the composer himself, but of the people near and dear to him, as well as distant acquaintances. We are posing ourselves the task of finding photographs to the extent possible (or making their electronic copies) of everyone related to Shostakovich in his creative work, as well as personally.
       The Archive actively participates in the attribution of photographs, cooperating with various archive depositories, including the Russian National Museum of Music.

Programmes. Posters
       This Record Group consists of two sections: (1) programmes and booklets and (2) posters.
       It comprises 2,000 files. The initial task in processing this Record Group was primarily to sort through and document programmes and posters of concerts of Dmitri Shostakovich's music
held during his lifetime. The earliest poster is dated 1924 and the earliest programme 1926 Approximately one third of the entire Record Group consists of foreign programmes, posters and
booklets. Programmes and posters of the first performances of Shostakovich's works comprise a special group.
       Most of the "lifetime" Record Group consists of programmes and posters of concerts and performances that Shostakovich attended. These are mainly performances and premieres of his works, the composer's recitals and gala evenings, as well as festivals and competitions in different cities in Russia and around the world. In addition to his own concerts, Shostakovich often went to the concerts and performances of his students, friends and colleagues, as well as of foreign performers touring the Soviet Union. The Record Group also has booklets in Russian And foreign languages devoted to different events: festivals, competitions, concerts, opera and ballet performances, music collectives, and others.
       The extensive amount of material presented makes it possible to provide a complete picture of the concert life of Shostakovich's music, track its journey and the frequency of its performances, and depict the Russian and foreign musicians and collectives that played and are still playing Shostakovich's works.
       The programmes, posters and booklets from this Record Group have several sources. They are mainly from the composer's own archive. A large part was collected by Irina Shostakovich, while some items came from the private archives of various people.

Books and Monographs
      The Record Group of printed matter includes various Russian and foreign publications: monographs about Dmitri Shostakovich and his works, collections of articles about the composer, publications of his correspondence with various cultural figures, conference papers, reference literature, as well as collections and monographs about other people who have some connection with Shostakovich—friends, colleagues, students and performers. They include monographs and books about Shostakovich by Sofya Khentova, Ivan Martynov, Ghenrikh Orlov, Marina Sabinina, Aleksandr Dolzhansky, Mattias Sokolsky, Viktor Bobrovsky, Leo Mazel, Ludmila Mikheyeva, Manashir Yakubov, Mikhail Ardov, Elizabeth Wilson, Krzysztof Meyer, Alla Bogdanova, Levon Hakobian, etc. The Record Group also comprises a wide selection of books about people in the composer's circles—Mstislav Rostropovich, Yevgeny Mravinsky, Ivan Sollertinsky, David Oistrakh, Vasiliy Shirinsky, Fedor Druzhinin, Vissarion Shebalin, Vsevolod Meyerhold, Karen Karayev, Valerian Bogdanov-Berezovsky, Boleslav Yavorsky, Svyatoslav Richter, Kirill Kondrashin, Aleksandr Gauk and others. The Record Group comprises collections of scientific articles and materials, including the collections Dmitri Shostakovich. Studies and Documents from the Dmitri Shostakovich Archive series, released by DSCH Publishers.
       A large part of the Record Group is comprised of books in foreign languages. One part of it includes original publications about Shostakovich and his works, while others consist of translations of Russian books about the composer. They include monographs by David Fanning, Elizabeth Wilson, Krzysztof Meyer (in several languages), Rosamund Bartlett, Detlef Gojowy, Sofya Moshevich, Eric Roseberry, Ian MacDonald and Solomon Volkov; translations into English, German, French and Dutch of the book Pisma k drugu. Dmitri Shostakovich—Isaaku Glikmanu (Letters to a Friend. Dmitri Shostakovich to Isaak Glikman) (English edition: Story of a Friendship: The Letters of Dmitry Shostakovich to Isaak Glikman, 1941-1945), the collection Dmitry Shostakovich. O vremeni i o sebe (Dmitri Shostakovich: On the Times and on Himself) (in Czech and Bulgarian), books by Mikhail Ardov Shostakovich v vospominaniyakh syna Maksima, docheri Galiny i protoiereya Mikhaila Ardova (English edition: Memories of Shostakovich: Interviews with the Composer's Children and Friends) (in English and Japanese) and Lev Danilevich Dmitri Shostakovich (in Chinese), and others.
       Some of the books were given to Dmitri Dmitriyevich and kept in his personal library—there are several copies of books and collections in the Record Group with dedicatory inscriptions by the authors. The rest of the books were acquired by Irina Shostakovich or given by various people to the Archive of Dmitri Shostakovich.  

Audio and Video Recordings
       This Record Group includes materials on various carriers (CD, DVD, vinyl records, audio and video cassettes, magnetic spools): recordings of the performances of Shostakovich's works, theatre and television productions of his stage works, documentary and feature films about the composer, feature films with Shostakovich's music, radio and television broadcasts about him and his works, documentary films of the composer from his personal archives and from the archives of his colleagues and students, as well as recordings of the performances of works by other authors.
       The Record Group has a large collection of recordings of Shostakovich's works. For example, each of the composer's symphonies is represented by an average of twenty different performances, including the recordings of performances conducted by the most outstanding conductors—Yevgeny Mravinsky, Gennadi Rozhdestvensky, Kirill Kondrashin, Mstislav Rostropovich, Yuri Temirkanov, Valery Gergiyev, Leonard Bernstein, Georg Solti, Kurt Sanderling, Riccardo Muti, Leopold Stokowski, Eugene Ormandy and others. The Record Group gives a wide and diverse presentation of Concertos for solo instruments and chamber instrumental and vocal music (recordings by David Oistrakh, Mstislav Rostropovich, Svyatoslav Richter, Fedor Druzhinin, the Beethoven Quartet, Borodin Quartet and Shostakovich Quartet; Galina Vishnevskaya, Nina Dorliak, Zara Dolukhanova, Yevgeny Nesterenko, Sergey Leiferkus and others). The recordings of operas and ballets include theatrical productions on a variety of world stages (the Bolshoi Theatre, the Mariinsky Theatre, the Deutsche Staatsoper in Berlin, the Staatsoper in Dresden, the English National Opera in London, Gran Teatre de Liceu in Barcelona, and so on), as well as film and television versions. The Record Group also keeps several audio recordings of works performed by Shostakovich himself.
       The collection of video materials comprises all the films and cartoons featuring Shostakovich's music, opera and ballet productions, recordings of concerts and choreographic performances to the music of a variety of Shostakovich's works. Documentary and feature films, as well as television programmes about the composer and his oeuvre form a separate group. The Archive also has several of Shostakovich's documentary films gathered from different archives (fragments of concert performances, statements and reports at plenums, congresses and conferences; interviews with Russian and foreign media companies and shots from home videos). 

The Archive's Library
Sheet Music Library
       The main part of this library is comprised of the music editions of Dmitri Shostakovich's works: scores, piano scores, arrangements, collections and multi-volume collections of his works.
       Most of this section has been compiled from the composer's personal archive (many copies have Shostakovich's signature), some of the publications were given to the Archive from the private archives of Dmitri Kabalevsky, Yuri Levitin, Marina Sabinina, Leo Mazel and Leonid Nikolayev; the rest was acquired by Irina Shostakovich. Sheet music of Dmitri Shostakovich Publishers (DSCH) forms a separate group.
       The Record Group comprises a large collection of music editions of Shostakovich's works put out in Russia and abroad between 1926 and 2018 Here we find the sheet music of the most prominent Soviet, Russian and foreign publishing houses: Muzgiz, Sovetsky kompozitor, Muzyka, DSCH, Kompozitor, Leeds Music Corporation, Am-Rus Music Corporation, G.Schirmer Inc., Boosey & Hawkes, Universal Edition, Musikverlag Hans Sikorski, Breitkopf & Härtel, Edition Peters, Le Chant du Monde, Ricordi, Editio Musica, Editio Supraphon, Zen-on Music (Japan) and others.
        A small group is comprised of the works of other authors donated or submitted to the Archive from various private collections.
Periodicals
       For decades, the Shostakovich family collected and saved articles from the Soviet and foreign press about the composer's creative work. They include sets of the following journals: Sovetskaya muzyka, Muzykalnaya zhizn and Muzykalnaya akademiya. In addition to newspapers and journals, the Periodicals Record Group also keeps a large number of newspaper And magazine cuttings of immense informational value. These cuttings are grouped according to subject, as well as in chronological order. This collection is divided into two large sections: publications during the composer's lifetime and posthumous publications. The Record Group comprises both originals and copies of the fragments of various periodicals, which makes it possible to shed fuller light on Dmitri Shostakovich's creative work. The most valuable exhibit of this Record Group is the so-called 1936 Album. It features cuttings from newspapers gathered and compiled by the composer himself after publication of the articles "Muddle Instead of Music" and "Ballet Falsity" in Pravda in 1936.
Awards
       This Record Group includes orders, medals and badges of honour awarded to Dmitri Shostakovich by the governments of different states and public organisations. These awards include the symbolic keys to the city of San Francisco (1958) and Ruse (1965) given to Dmitri Shostakovich during his visits to the USA and Bulgaria. The Awards Record Group supplements the Record Group of Personal Documents and includes valuable exhibition material that gives a vivid illustration of Dmitri Shostakovich's public and creative activity.
Visual Materials
       This Record Group, which is the most diverse in terms of content and artistic value, although not an archive, is nevertheless part of the Archive of Dmitri Shostakovich, along with hand-written and printed documents. The Art Works Record Group comprises graphic, painting and sculptural works in originals and copies accumulated by the composer and his family. The Record Group also includes printed reproductions, photographs, art albums and souvenirs. Most of art works accumulated throughout the composer's life were mainly gifts. Dmitri Shostakovich never collected works of art. Some of the exhibits appeared in the collection thanks to the composer's personal contacts with the artists (Saryan, Williams, Gershov, Salakhov and others) or were given to Shostakovich by admirers of his music. The latter explains the artistic diversity of the collection, since the work of outstanding artists is found alongside pictures by amateurs.
Nevertheless, each exhibit illustrates not only incidents in Dmitri Dmitriyevich's life, but also the story of his music. The composer's iconography is widely represented. Works by Kustodiyev, Gershov, Salakhov, Sitnikov and Gutman show him at different times in his life. Pictures and sketches done by artists in the flesh (before and after concerts, for example), are not only artistically valuable, but also of documentary significance since they record incidents in the composer's performance and public activity. The works of Bordyukova, Neprintsev, Kostomolotsky and Dobrinov are interesting in this respect. The story of how Shostakovich's works were staged and performed has played a part in replenishing the Record Group. These include sketches for opera and ballet performances, a cycle of works by French artist Rosier called Dmitri Shostakovich's Life and Work, five works (in keeping with the parts of the musical work) joined under the single name Quintet. The Art Works Record Group keeps bookplates of the graphic work of Kadin for Dmitri Shostakovich's personal library (they were not used) and several silhouettes by Kruglikova. The sculpture genre is represented in the Archive by such exhibits as a bust of Beethoven (sculptor Gavriil Glikman) and sculpture portraits of Shostakovich by various authors. Several art works in the rooms of Dmitri Shostakovich's memorial apartment have been replaced with artistic copies in order to preserve them.